click to make the pictures larger


The Big Island July 10 - July 17 2006
Instead of posting them by date, I posted them by parts of the island
I am aware that some places may be in the wrong section, I forget the names of places
West:
Kailua-Kona, City of Refuge
North:
Pololu Valley Lookout, Waipio Valley Lookout, Laupahoehoe
East:
Hilo, Puna, Hawaii Volcanoes National Park
South:
South Point, Punalu'u Black Sand Beach
A heiau is where hawaiians used to make offerings to the gods
Madame Pele is the volcano god
Fast Big Island Facts
It is the youngest Hawaiian island estimated to be 800,000 years old

Kilauea is the world's most active volcano. It has been producing lava since January 1983


Measured from the sea floor, Mauna Kea on the Big Island stands 33,476 feet high (13,796 feet from sea level), making it the tallest mountain on earth.
WEST
View from our condo in Kailua-Kona...the pictures that look kinda orange are from a little further down the road, we didn't think we'd make it home in time to take pictures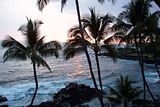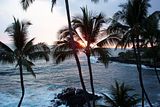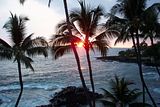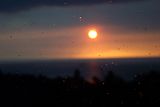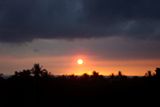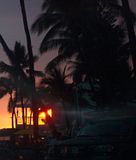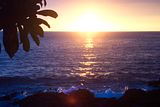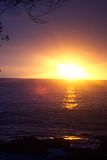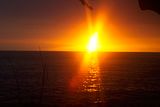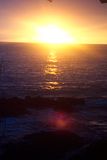 The condo looked out over the ocean...there was this cool little protected area where turtles would hang out...i think the most we counted at one time was 6 in there. There were also lots of tiny but colorful fish.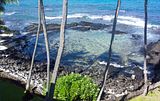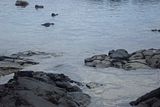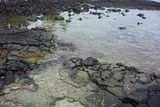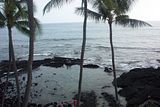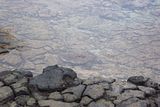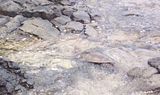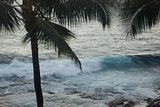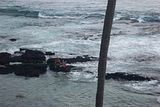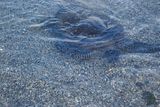 Thought this was kinda cute, they are fishing for their food. We saw a much cuter family a few days before catching fish and then cooking them...it was a cute Japanese family with a little girl, her grandma, her grandma's brother (he was from hilo) and the rest of the family (we don't know everyone's relation to eachother)...but the guy from Hilo was teaching everyone in his family who was from Colorado how to fish.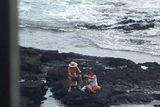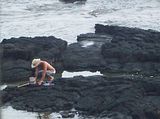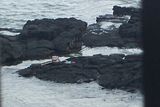 Thought this little family was cute...they remind me of the cingular wireless bars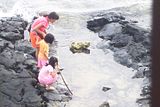 Photographing palm trees is fun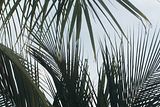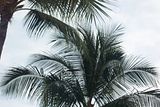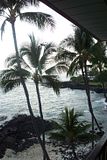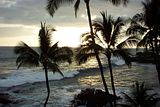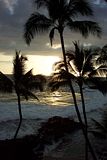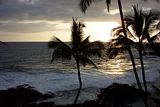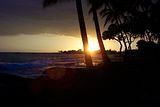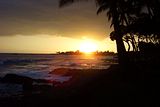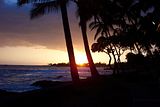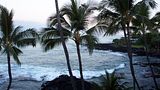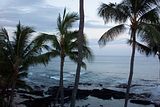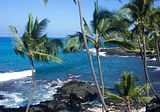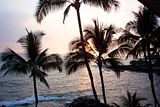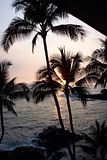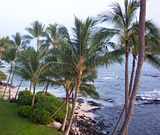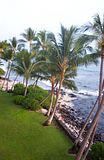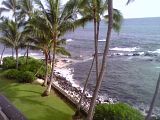 KUEMANU HEIAU (Surfer's Heiau)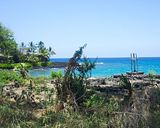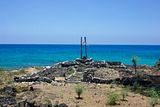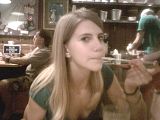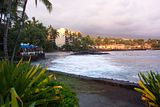 Me at Bubba Gumps Shrimp Company the night we got there...I love that restaurant...that is the view as the sun sets looking towards Bubba Gumps
CITY OF REFUGE
This is an interesting area because in the olden times, when a hawaiian would break a rule, they would have to make it to this part of the island to be forgiven and then would be allowed to return to their village.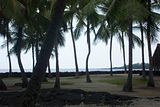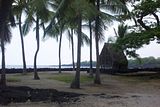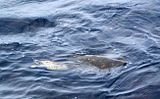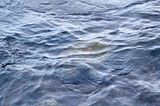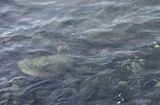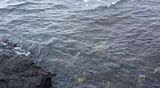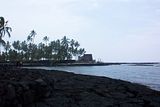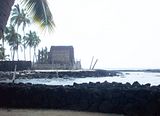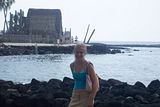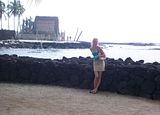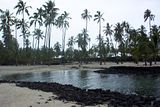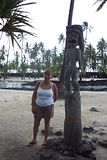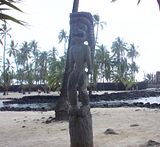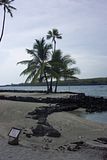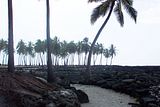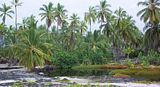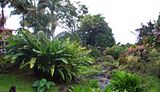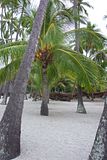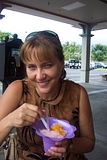 My mom eating shave ice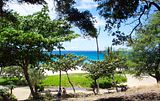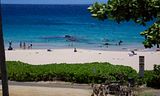 Kohala Windfarms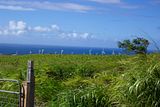 Going up the Kohala coast...above the clouds is Maui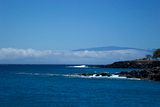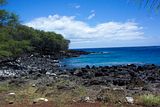 Captain Cook Monument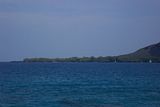 When you click on the picture, you see a white monument. That is where Captain Cook was killed in 1779. It is on British soil because it was deeded to the UK by Princess Likelike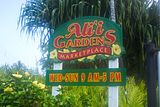 Cute little place...I got a pearl necklace and earings there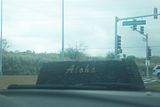 A cute Japanese cemetary. My mom loves cemetaries...especially old Japanese ones...some of the headstones are so old that you can't tell that it had been formed in a rectangle at what time and the words were all gone...not like we could read it though...it's in Japanese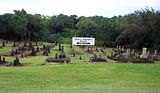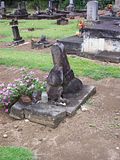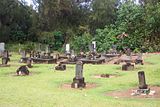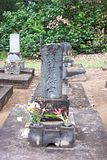 Driving up the Kohala coast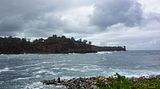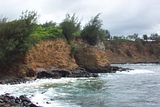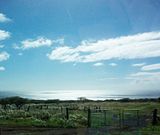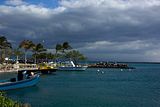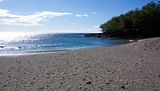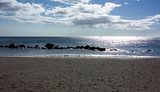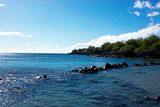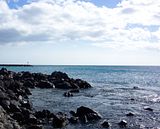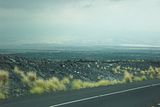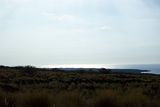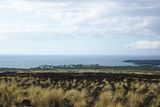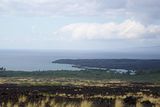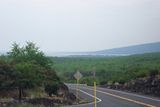 On the road going north from Kailua-Kona, there is an abundance of lava...perfectly black, like a chalkboard. So people take pieces of white coral and write things...we saw things that said "Aloha" "I Love You Sue" "In memory of mom" I'm sure it's been thought of before, but I think it would be adorable if someone proposed to someone on that...kinda like how 8 years ago or so someone did that using the Cal Poly P on the mountain (if you don't live in slo, disreguard that, you wouldn't know).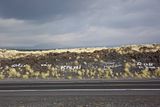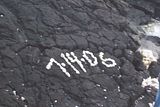 Apparently someone must have just seen these cool coral writings because in front of our condo someone wrote the date of the next day, why not that day I have no idea (it was the 13th)...BUT they wrote 7 14 06...aka my birthday! i honestly have no idea who did it and have no connection with them, I wonder if it was someone else's birthday.
NORTH
Further up the coast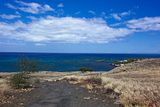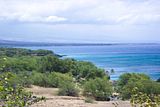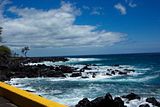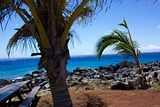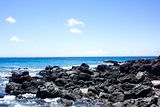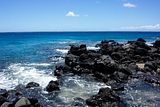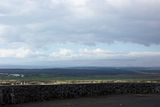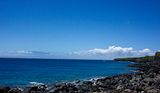 Polulu valley lookout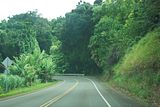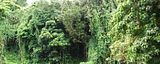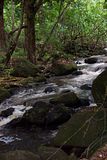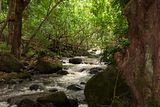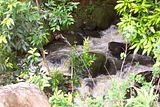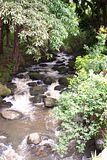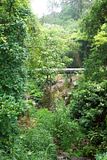 The road driving out there was beautiful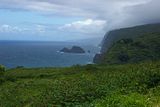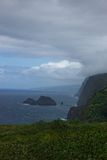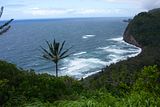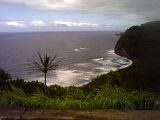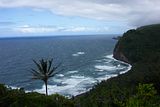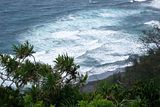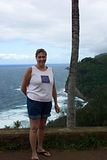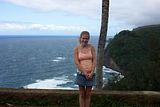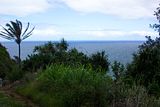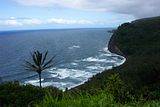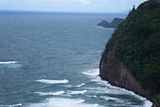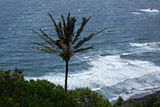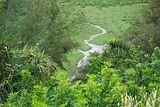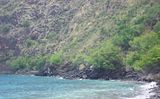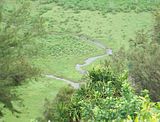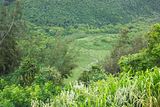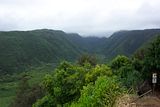 looking down at the valley
A heiau somewhere...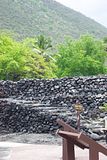 Waipio Valley Lookout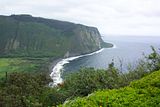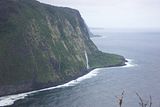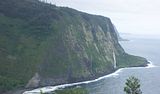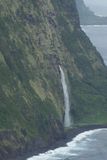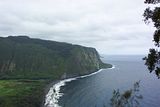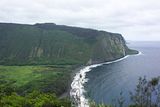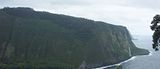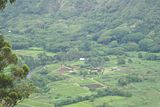 Laupahoehoe

Sad place but very interesting...we learned more later when we went to the Pacific Tsunami Museam (interesting)
On April fools day in 1946 a large tsunami hit the Big Island coast...in total 159 people died...Laupahoehoe lost 23 students and 4 teachers. The school was right on the beach. The kids noticed the water had receded and went to look...the waves came, and they took a trip to the ocean. An interesting fact: one of the teachers got swept out to sea, but a man with a boat was trying to rescue people. When she got in the boat she realized that she had previously planned a date with him for that night. They ended up getting married. After this tsunami, they created the island's Tsunami warning system
There is the stone remembering those who died...a lot of the people were related
http://uzix.org/photo/2004/09/honeymoon/d
ay09/html/20040924-122318.jpg.html
The ocean looks violent even when there isn't a tsunami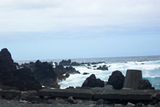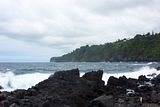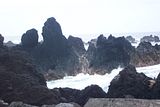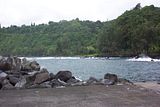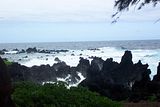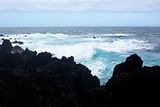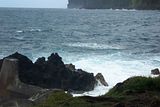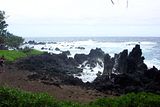 EAST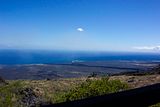 A state park...just interesting with the moss growing